The University Staff Advisory Council represents the needs of staff to senior administration and works proactively to make the University of Richmond an employer of choice.
January 12, 2021 USAC Meeting
The University Staff Advisory Council met for its monthly meeting on January 12, 2021 at 1pm. Staff representatives from the Presidential Search Committee spoke to the group about the search process. Also, Amy Howard and Carl Sorensen advised the group of the an upcoming survey which all staff will be encouraged to complete.
For those who were unable to attend, a link to the recording can be found here.
Next Meeting
Join us via Zoom at our next meeting on Tuesday, February 9th from 1-3pm. The Zoom link will be shared with the campus community in SpiderBytes on Monday, February 8th.  
USAC Spider Staff Spotlight
The USAC SSS is a monthly feature to highlight our amazing colleagues across campus
Meet Emily Helft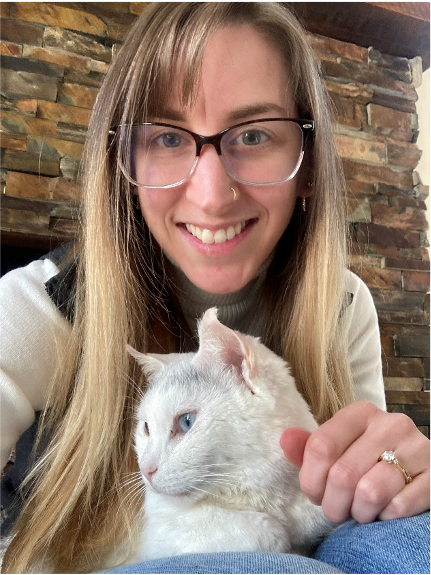 Pronouns: she/her/hers
 Position/Department: Director of Disability Services
 How long have you been at UR? I'm pretty new. I started at the end of this past May--virtual interview, onboarding, and all!
 What should everyone know about your role or department? It may sound   a little strange, but my job is to put myself out of a job. I'm here to help make   Richmond an accessible place through community education and guidance, and if I do that really well, it means you all won't need me anymore! But while we march down that path, my role is to make sure all students have equal access to everything UR. That means we have no deadlines for registration, and I meet with students regularly with a host of all kinds of diagnoses and conditions, including those with mental health concerns, learning disabilities, hearing difficulties, or any other situation that impacts a student's day to day functioning. Disability is much more common than most people think--roughly 20% of the world's population qualifies as a person with a disability at some point in their life.
How has the coronavirus impacted your day-to-day work/role? Since the only UR life I know is UR in the time of COVID, it's hard for me to say what's different. Certainly, some of our student accommodation needs are more unique this year as a result of COVID. Additionally, many of the meetings I have with students via Zoom would ideally be happening in person if a student is on campus. In some ways, Zoom has paved a normalized path for me to meet with incoming students over the summer, which is great! But I miss meeting with students in person, having people pop into the office just to say hi, and hosting potlucks (that is one of my specialties). 
What is something fun or a unique fact about you? I'm actually a Richmond transplant. I was born in Vermont and grew up just over the border in Upstate New York in a town that probably has more cows than people. When I moved to Williamsburg for grad school, I thought I would bounce back north as soon as I was done. Then I was placed in Hanover County for my internship and needed to move to Richmond. I thought it was going to be the *worst year ever,* but surprise! I love it here and so I never left 🙂 I also love snacks, and my favorite things are anything coconut, lavender, or cheese-related (you know...in case you ever want to bring me a treat in the post-COVID world).
More Kudos!
Anne-Stewart Freeman is such an asset to the ECSS team, I'd like to give kudos to her directly. She took on a large task this summer with our wonderful Support Services team and helped our office immensely. Not only was her task physically demanding, it also involved a lot of challenges with logistics and planning. She took those challenges head-on and did a stellar job. ASF is such an incredible and motivating person. She does everything with a smile and a laugh. Thank you, Stu, for everything you do!
A big shout-out to our Support Services team as well! They always, ALWAYS do such hard work and we appreciate everything they do. This summer they've done so much to ready our campus in preparation for our fall semester. Since our school semesters will look a little different this year, they've had a couple things to rearrange because of it. We are always amazed with what they do and we THANK YOU ALL for stepping in to help!
- Jennifer Bock, Administrative Assistant - Events, Conferences, and Support Services
Recent Retirees
Sandra "Sandy" Roman, Administrative Specialist - Admissions
Congratulations to Sandy Roman, who retired on June 30! We appreciate her dedication to the mission and vision of the University and her many contributions to the Office of Admission, particularly in the areas of multicultural and international student recruitment.
Contact Us
The University Staff Advisory Council invites all staff to submit a suggestion form with ideas, issues, or questions. All entries will be treated with discretion and confidentiality.
2020-21 Executive Committee

Chair: Mark Stanton, Athletics
Vice Chair: Jessica Washington, Bonner Center for Civic Engagement
Secretary/Treasurer: Jennifer O'Donnell, Biology Department